Mercedes-Benz has a new user experience that has been notable since a convention last year. With the latest line of Mercedes-Benz EQS vehicles, there's a curved glass in the center of the dash. In length, the Hyperscreen is maybe the largest silicate visible in a product of the auto industry. It's longer than 56 inches. The Hyperscreen is actually made to be interacted in multiple touch spots, underneath a seamless glass pane.
What Other Details Is Mercedes-Benz Revealing Here?
Like a regular car, there is a multitude of digital gauges. Unlike a regular car, these gauges have distinguished EV functions. Services for the driver like state of charge, brake regeneration and driving dynamics. Adjacent to that area is a center for infotainment. It can convert itself into a huge map combo'd with sound settings. A wide-screen is visible on the dashboard not far from the passenger, with either sweet deals, depending on the presence of passengers.
Also on the Hyperscreen are HVAC vents. They are somewhat smooth on the glass's surface. Air outlets are multiplied as pleasantly as the stars here on the Hyperscreen. The vents themselves look pretty good. But don't take my word for it. Take a look.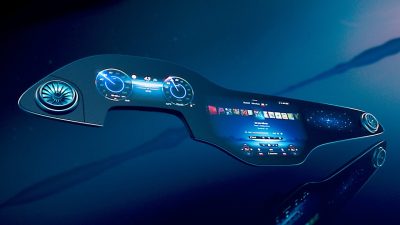 There's a distinguishment with this Hyperscreen that is seldom found in cars. As if it was a human who remade himself into a machine that can understand the human struggle all at the same time. It sure is luxurious, wouldn't you say so? Gives off that Bruce Wayne aesthetic.
It's slightly curved thanks to heating process of about 1,200 degrees Fahrenheit.
This therefore gives clarity and strength to the dashboard in ways that were previously thought of as impossible before. Still, the Hyperscreen keeps up with safety requirements that maybe the competitiors to Mercedes-Benz haven't thought of before. What's more? The glass keeps folks safe from disastrous car accidents.