Guaranteed Auto Shipping from Alaska!
Alaska Auto Shipping
---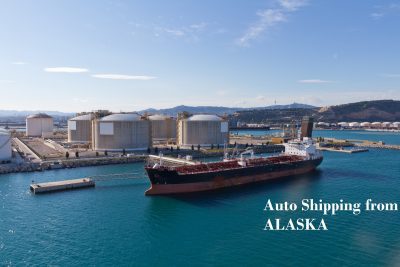 Alaska Auto Transportation is a licensed and bonded auto shipper in the United States. With over 12 years of experience, we have sent almost 1M cars to any state/city. Over the years, we have gained a huge reputation among the US nation. The reason for that is because car shipping is our passion.
Whether it is a car, truck, motorcycle, van, SUV or boat, one of the most important stages of oversea vehicle shipping is securing the vehicle in the right way. Our warehouse team uses only high-tech equipment when doing a car shipping either with roll on/roll off service or container car shipping service. Your vehicle is being tied to the container or to the RORO vessel in the safest way possible.

Alaska Ports
If it has wheels, we can ship it. Alaska Auto Transportation offers service from Anchorage, Fairbanks, Dutch Harbor, Kodiak, Juneau, Ketchikan, Valdez, Nikiski, Kivalina, Homer – at the lowest and the most reasonable rates!
We are committed to providing a superior quality of service. That is why Alaska Auto Transportation has a huge reputation in Oversea Auto Transport Services!
How Much Does It Cost to Ship a Vehicle?
The first and foremost 3 things that are being considered are:
Size/ Dimensions (the type of the vehicle)
Pick up/Delivery Locations
Destination Requirements
As you can see, each shipment varies, and the cost depends on where, when, how, and a lot of other variables. Also, pay attention to the services Alaska Auto Transportation offers. The services type impacts on the cost as well.
Request a free quote to get your car shipping calculated in a timely manner.
Our services include:
Twice weekly, Tuesday and Thursday, services between all the terminals (Anchorage, Juneau, Valdez, Nikiski, Kivalina, Homer, Kodiak, Dutch Harbor, and Ketchikan)
Full range of equipment, including oversize and military equipment
Roll on/Roll off Service
Modern technology which allows in-transit shipping visibility online
3-7-day-shipping from Seattle to any Alaska terminal
Container Car Shipping
Autos move in safe and enclosed containers
Vehicle Tracking over the phone