Anchorage Car Shipping
Safe and Sound relocation!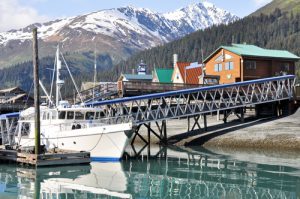 Anchorage stretches across 1,955 square miles, from the Alaska Native village of Eklutna all the way to Portage Glacier south of town. Anchorage's Ted Stevens AIA is the state's main air hub. Paved highways accessible from Anchorage connect to places like Fairbanks, Valdez, the Kenai Peninsula, and Denali National. Elias National Park and Preserve. The Alaska Railroad's main passenger depot is in Anchorage and runs from Seward to Fairbanks.
Among the northernmost cities on Earth, Anchorage is a place with big-city amenities: fine restaurants, museums, theaters, and an excellent music scene. Creating the backdrop is the salmon-rich waters of Cook Inlet. Within a short drive from downtown are dozens of wilderness adventures and a short plane ride opens the possibility of almost any type of adventure. That's one reason why Anchorage's Lake Hood is the world's busiest floatplane base.
Need auto transport to or from Anchorage, AK?
Alaska Auto Transportation is a perfect option!
We are a company with high-quality and safety standards. Dedicated team and experts are committed to superior services. We do Anchorage Car Shipping for both individuals and companies. Car moving has never been easier!
How to Get in Touch. At Alaska Auto Transportation, we offer an online quote submission service which is available at any time. Click on Get a Quote and fill out a little form. Also, you can call us at (907) 290-8899 and talk to one of our representatives!
Why Alaska Auto Transportation?
Reliable and affordable on every step
Enclosed containers for each kind of vehicle
Top-rated customer service
Real-time Shipment Tracking by phone
Where can Alaska Auto Transportation ship your vehicle to/from?
Alaska ports: Anchorage, Juneau, Valdez, Nikiski, Kivalina, Homer, Kodiak, Dutch Harbor, and Ketchikan
Port of Seattle
Port of Washington